The fascinating world of coffee in the Siemens Home Connect app: enjoyment without limit.

The innovative Home Connect app is your direct line to the perfect coffee experience and maximum convenience. Simply download the app to a smartphone or tablet, register as a user, connect the EQ.9 connect fully automatic coffee machine to the WLAN network and discover a wide and entirely new world of coffee. Use the coffeeWorld to enjoy international coffee specialities, for example, or collect and store the coffee preferences of all your friends and guests with the coffeePlaylist, then send to the EQ.9 connect fully automatic coffee machine. What's more, the app also contains in-depth information on coffee and recipes for exclusive coffee creations. So you can steal the show as a coffee connoisseur or work the magic of a gourmet chef. Guaranteeing sheer enjoyment is as simple as that.

coffeeWorld
Wiener Melange, a Portuguese Galão or a Kaapi as drunk in India? In addition to the already extensive selection of beverages provided by the EQ.9 connect, coffeeWorld offers another 18 international speciality coffees that are typically drunk in individual countries and which can only be exclusively accessed via the app. This means that you can discover the whole world of coffee at home or relive a taste of your last holiday all over again. With coffeeWorld, the big, wide world of coffee is just a click away.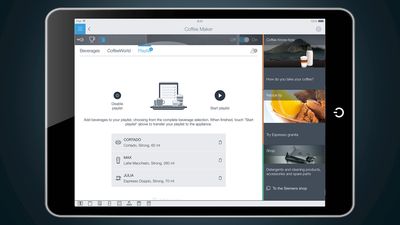 coffeePlaylist
Lots of guests with lots of different coffee requests: lots for a host to remember. With the coffeePlaylist, you can now enter all beverages you would like directly into the app in one go and even create them individually. The app sends this information to the EQ.9 connect fully automatic coffee machine. The beverages will then be individually identified with the names of your guests and prepared one by one. So you can indulge all of your guests easily, and almost automatically.

Coffee recipes
The Home Connect app offers exclusive access to 47 carefully chosen recipes revolving around coffee – be it an aperitif, main course or dessert. So you can keep on finding new ways to enjoy this fascinating beverage. The EQ.9 connect offers a particularly convenient function for this: the versatile fully automatic coffee machine will always make the perfect coffee for each recipe, however unusual your creations. Alongside sophisticated recipe ideas, the innovative Home Connect app also offers a whole host of interesting and new information about beans, cultivation, roasting and the different types of coffee. So even real experts can extend their coffee knowledge.

The technology in the EQ.9 – for entirely individualised enjoyment of coffee.




Coffee for true connoisseurs thanks to the fine aroma setting in baristaMode.
Five parameters are key to the best coffee or espresso: coffee strength, quantity, temperature, coffee/milk ratio and brewing speed. By switching from standard mode to baristaMode, even finer and highly personalised settings are possible. Catering for everyone's taste in coffee. This optimised setting celebrates the fine art of coffee preparation.