Siemens integrated fridges and freezers fit into any kitchen cabinet design. In fully integrated models, doors can be clad in unified panelling. Or, for a more individual statement, choose a decorative panel. All Siemens integrated coolers combine innovative technologies with convenient functions.

hyperFresh premium. Keep your food fresh for up to three times longer.
Enjoy nutricious freshness for up to three times longer. Thanks to hyperFresh premium 0°C, it is easier than ever before. You just have to select the kind of fruits and vegetables you want to store with the new aesthetic control for the perfect humidity level. And thanks to the 0°C drawer, fish and meat are also provided with the perfect temperature.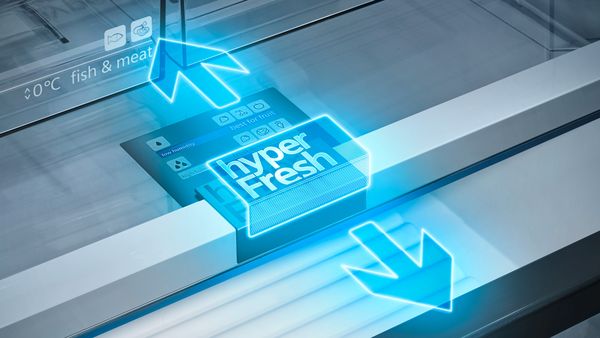 hyperFresh plus. Fresh for twice as long.
The new hyperFresh plus drawer doesn't just look good, it's pretty smart too. It makes it easy to provide your food with the right conditions and keep it fresh for much longer than usual. Whether it's fruit or vegetables, you just make your selection and the humidity will be adjusted.

Defrosting has become obsolete: noFrost Technology.
All sensors of the noFrost appliances constantly provide necessary information, for instance about the environment temperature and the number of door openings, to define defrosting cycles for the freezer compartment. These controlled defrosting cycles prevent the build-up of frost on the inside of the fridge freezer, which also keeps energy consumption consistently low. So you never have to defrost the freezer again – saving you time and effort.

Everything fits – the bigBox.
Sometimes you just need more space in your freezer. Whether it is an entire leg of lamb, a stack of pizzas or a tall can, it will fit into the extra high bigBox compartment easily. If that is not enough, in many Siemens freezers the shelves and compartments can be taken out so you can make even more room.

The new LED lights illuminate the interior evenly, without any glaring.
The new long-lasting LED lights are seamlessly integrated in the side walls or ceiling and illuminate the interior evenly and perfectly without irritating you.